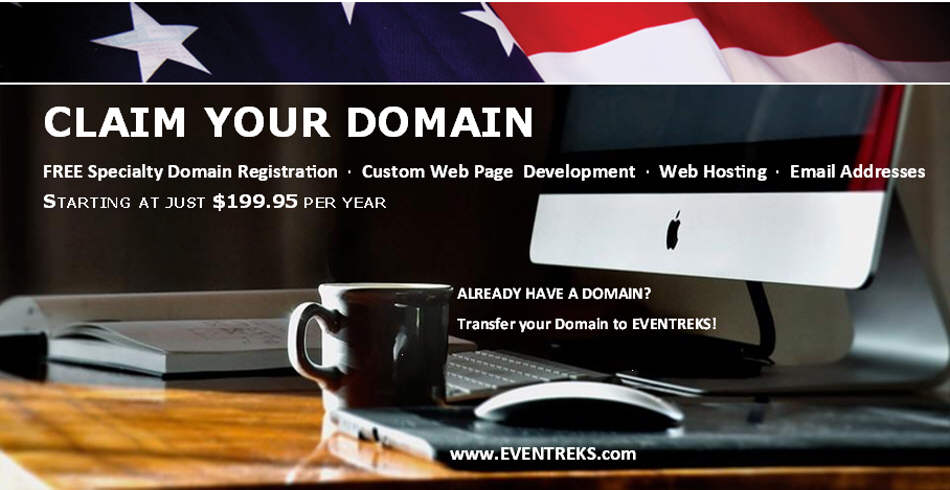 Eighty-nine percent of consumers expect you have to a website, even if your business is just you and a laptop.   A website is no longer optional, it's a business necessity.  But if you're not quite ready to publish your own business website, registering your own domain name is the first step to securing your online brand and professional image.
«Professionalism:  A branded email shows the world your company is established and professional.  A generic or free email may project inexperience – or even worse, raise doubts on whether you're a real company at all.
«Brand:  Develop your new domain name to feature your brand name products or services. All domain names are unique but there are only so many good ones relevant to your interests.
«Direct Navigation:  This occurs when a client types "YourDomainName.com" into their browser directly without even searching to find your site.
«Email:  Use your domain name to host email addresses. Use email addresses like you@YourDomainName.com.
«Credibility:  A domain name is more credible to put on a business card or advertisement in a newspaper or magazine than a free or generic email address.
«Marketing:  YourDomainName.com is much easier to say, spell and read than Facebook.com/whatever/123z56k.  Looks much better in print too.
«Mobility:  Consumers are more mobile than ever and now have easy access to the Internet via their cellphones so there are more opportunities for people to use the Internet and visit your domain name or web site.
«Search Engine Results:  Most web developers will confirm that having a keyword rich domain will help your website show up better in search engine results.
FREE Specialty Domain
Custom Webpage
3 Email Addresses
Online Support
Administrative Access
Contact Database
CloudFlare CDN
Web and Data Hosting
Put Your Tax Savings Towards Great Opportunities!
You need to login to make an appointment. Please click here to register/login: Login
Comments
comments
All Eventreks' Web and Data Hosting packages include FREE Setup. Spam Protection, POP3 & SMTP Email, Webmail Access, Email Forwarding, Personal Address Book, Auto Responders, and CloudFlare CDN to meet your business needs.
"When we share, we open doors to a new beginning".  ― Paul Bradley Smith
Comments
comments